MAKING THE RESURRECTION REAL TODAY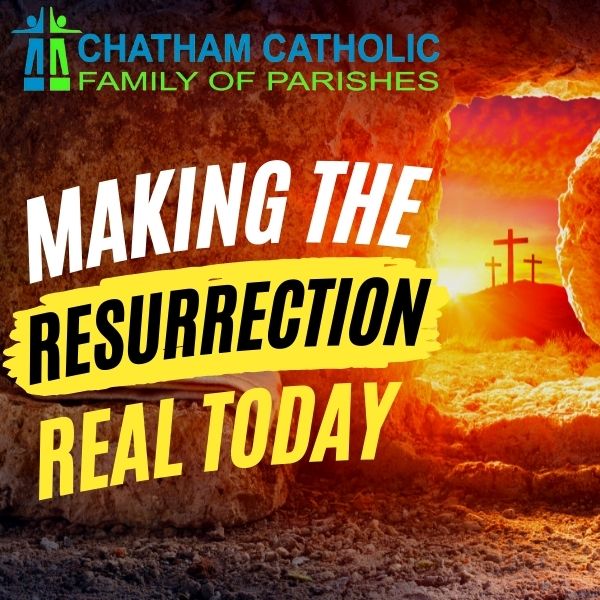 The Easter season is a time to celebrate and rejoice in the gift of the resurrection!!  It is not just a liturgical season but a time to be renewed, empowered and sent to be the Risen Lord in our world today.  The danger is that sometimes we can allow Easter to end after the Easter Triduum—thinking of it as just another holiday long weekend.  We need to seek ways to make the triumph of Christ transformative in our lives here and now.  How can our faith help us encounter the Risen Christ and be the light of eternal life in everything we do.
HOMILY #1 – WE NEED EASTER TODAY
Fr. John begins this series reminding us that we all need Easter here and now.  It is not something we simply remember and allow to fade.  The resurrection is not a holiday weekend but an encounter with the Risen Lord in the event that changes the world.  Is this really relevant and formative for us in our lives today?
SESSION #2 – STAYING IN THE MOMENT
In the second homily of this series Fr. John reminds us that in order for us to be transformed by the Risen Lord we need to stay in the moment of Easter.  Being present and attentive to things happening around us and to us transform our lives—whether that is going to a concert, a baseball game or even cutting the grass!!  Being present to moments help us—Let us stay close to the Risen Lord and love as he has loved.
Check out Fr. John's SHIELD OF FAITH blog post called MAKING THE RESURRECTION REAL TODAY asking us to reflect on some questions that will help us make Easter more relevant today. Click here.
SESSION #3 – WITNESSES OF JOY
Fr. John concludes the message series inviting us to be witnesses of joy when sharing about the Risen Lord. Our joy, compassion and love will bring people closer to Christ. We need to plan and then go together making the resurrection real today!!
Check out Fr. John's SHIELD OF FAITH blog post about being MISSIONARIES OF JOY.  Click here.