MORE ON THE STRATEGIC PASTORAL PLAN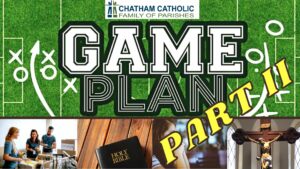 This is a sequel to the GAME PLAN message series that Fr. John concluded recently as he spoke about the two main foundations of the journey ahead (forming disciples & reaching out to all) in addition to defining the 6 Qualities of a Faithful Disciple.  In this series, Fr. John shares the layering of ministries and programs over the next four to five years.  This will involve dedicating a year at a time to lead people through a conversion experience.  The yearly themes will be – WELCOME & FAMILY, PRAYER & CONVERSION, GIFS & CALL and WITNESS & SERVICE.  We spend time getting to know one another as community, deepen our relationship with Christ, recognize the gifts and abilities God has given us and then sharing them as a sign of hope and love in the world.
HOMILY #1 – WELCOME & FAMILY
Fr. John begins this series by introducing the transition of the new pastoral plan over the next four years via themes.  The first year of transition will be called WELCOME & FAMILY in which we focus on getting to know one another as a community of faith.  This is most important in the post-pandemic world and if we are going to be a true family—-we need to know and care for one another.  Fr. John even talks about the tv show CHEERS—a place where everybody knows your name!!
SESSION #2 – SETTING WHEELS IN MOTION
Fr. John continues this second homily of the message series talking about the need to change your tires for good control, traction and a smooth ride.  For us as a family of parishes, we need to have good tires for us to travel along the highway to heaven together.  This second wheel of implementing the pastoral plan is focused on PRAYER & CONVERSION.
Check out Fr. John's SHIELD OF FAITH article reflecting on the first two of four wheels needed for us to move forward in the new pastoral plan– (1) WELCOME & FAMILY & (2) PRAYER & CONVERSION.–Click Here
SESSION #3 – OUR GIFTS & OUR CALL
Fr. John continues this message series by talking about the "third tire" or year of moving the pastoral vision forward.  The third wheel is a year of reflection on GIFTS & CALL.  What has God given us to share with others and how are we called to share who we are and what we have with those in need?
SESSION #4 – SHARING THE LIGHT OF CHRIST
Fr. John concludes this message series by talking about the "fourth tire" of WITNESS & SERVICE that implements the new pastoral vision for the family of parishes as faithful disciples. Advent helps us wake up and live the Gospel today!
Check out Fr. John's SHIELD OF FAITH article as he reflects on the Chatham Catholic Family of Parishes pastoral vision being implemented and set in motion over the next four years building community, drawing closer to Jesus and reaching out to those in need.–Click Here