NEW YEAR'S RESOLUTIONS
WHO HAS GOD MADE US TO BE?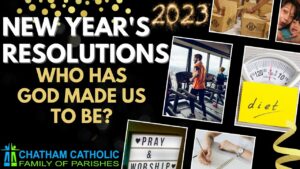 Have you ever made New Year's resolutions?  Starting new things or starting over is so important and needed in our lives.  Yet to really change and to sustain our resolutions—we need to be determined and persevere.  Only 9% of people who make New Year's resolutions make it to the end of the year.  What do these resolutions really accomplish?  It is good to lose weight, exercise more and eat healthy.  Yet, these things don't get to the core of who we are why we were made.  This message series explores FAITH RESOLUTIONS that we can make discovering who God has made us to be—which will allow us to be the best version of ourselves!!
HOMILY #1 – FAITH RESOLUTIONS
Did you make a New Year's resolution? These are noble things to do but statistically most quit by the second Friday of January. Fr. John looks at FAITH resolutions that doesn't help us lose weight or save money—but discover who God has made us to be—-the key to our fulfillment and happiness!
Check out Fr. John's SHIELD OF FAITH article reflecting on the resolutions that matter.–Click Here
HOMILY #2 – REPENTANT RESOLUTIONS
Fr. John continues the message series by inviting each of us to move towards the light of Christ, be a community without division united in mind and purpose, humbly proclaiming the Good News by changing our lives and priorities. Great FAITH RESOLUTIONS any time of year!!
Check out Fr. John's SHIELD OF FAITH article reflecting New Year's Resolutions that are rooted in faith—REPENTANT RESOLUTIONS.–Click Here
HOMILY #3 – SALT & LIGHT
Fr. John concludes the homily series with a reflection on being salt and light in our world today.  We are empowered by the Lord to being flavour, depth, zest and grace into the world (salt) for the sake of others and shine the light of good works (light) to bring people to Jesus.  A great New Year's resolution—SALT & LIGHT.