By: Fr. John Jasica
HAPPY NEW YEAR!! A TIME FOR NEW THINGS!
The Christmas season has ended and we have now entered 2023.  May this new year offer us new opportunities of grace, light, joy and peace.  May this year be filled with faith, renewal and transformation in our personal lives but also in our family of parishes as we all seek to help bring Christ's love in our world.
New beginnings always offer us a chance to start over, to start something new or to try things once again with fresh vigor.  May this new year be a real chance for growth in understanding the mission of our lives to help build God's kingdom.  May we do this together!
WORDS OF GRATITUDE!
I want to once again express my gratitude to the family staff, choirs/musicians, decorators and liturgical ministers that made the Christmas season truly powerful—despite the terrible winter storm that caused all of us to change so many plans on Christmas weekend.  This special season is always filled with joy and hope.  May we carry that on in the weeks and months ahead!!
A NEW YEAR—A NEW MESSAGE SERIES!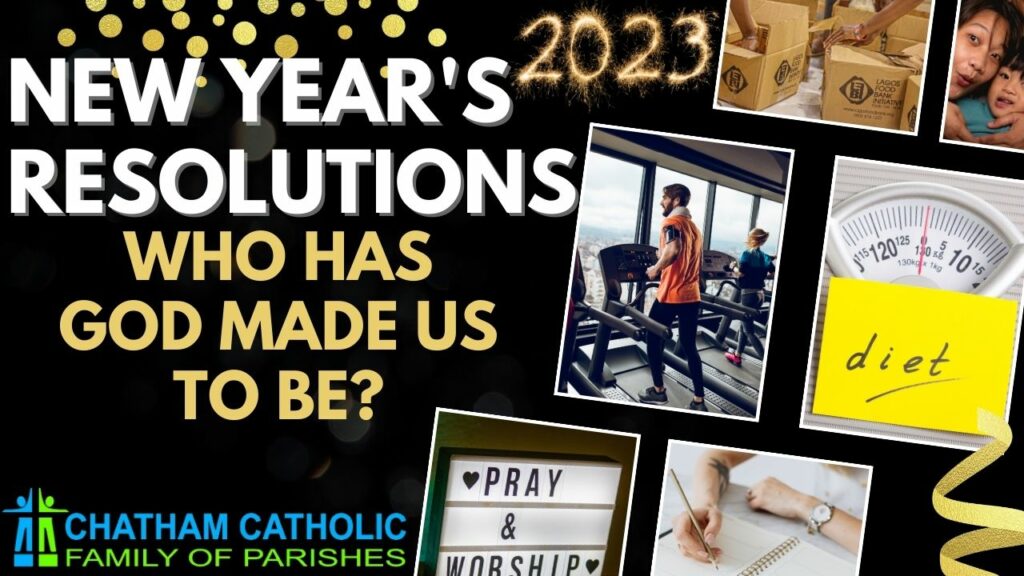 This weekend I begin a new message series called "New Year's Resolutions—Who has God made us to be?"  With every new year, tradition in our society today challenges us to make New Year's resolutions for self improvement.  These are well intentioned commitments we make to ourselves to do things differently.  It is a chance to take a new road and become a better person.
So often these resolutions are focused on our own personal benefit or advantage—many choose to exercise more, eat healthier, buy a gym membership, commit to saving more money and spending time with others.  Once again, all of these things are good resolutions and if we actually commit to them during the entire year—we will definitely benefit.  But when we reach our goal what then?  What happens?
RESOLUTIONS OF FAITH
Is it all about personal improvement or is there more?  Can these resolutions really help us understand who we are and what we are called to do in our lives?
According to some recent studies, just 9% of people keep their New Year's resolutions.  23% of people quit by the end of the first week and most people quit on the second Friday of the month—this is now known as "Quitters Day."  Change is hard and making serious changes to the way we live our lives takes courage and persistence.  Yet I also think that so many people give up on their New Year's resolutions because in the end, many of these choices do not feed our hearts and souls helping us discover the very essence of who we really are.
This new three homily message series invites us to consider deeper resolutions for 2023 focused on the gift of our faith which allows us to strengthen our relationship with God and others.  Growing our faith life will help us see the world differently—through God's eyes showing us how we fit in the plan of salvation.  We all have a role to play as disciples to share Christ's light and love with those who are in need.  Yet, so often, we are caught up in ourselves and how we can become richer, have more things and feel more important.
FAITH RESOLUTIONS
In light of this series I am looking to make some New Year's Faith Resolutions that I think will help me discover more and more who God has made me to be in this world—which in the end, makes me truly happy and fulfilled.  Only with the Lord can we be at peace as instruments of His grace and joy.
(1) PRAYER—SPENDING TIME WITH GOD
I will take more meaningful and attentive time to pray and be with God.  Being a priest and serving five churches in the family of parishes is very busy and demanding.  Yet I need to pray even more listening to the voice of God so I can serve the people of God as best as I can.
(2) EMBRACE DISCIPLESHIP
I will take time this year to embrace the call of real discipleship in my day to day life.  This challenges me to understand that I am called to live my life serving rather than being served.  To seeking how I can give more than I receive.
(3) CHALLENGES ARE OPPORTUNITIES
2023 will be a decisive year for our family of parishes as we forge a new path becoming who God is calling us to be for our world today.  There are many challenges ahead—but I will embrace them as opportunities to create something new that God wants which surpasses my greatest expectations.