UNKNOWN PATH TO EASTER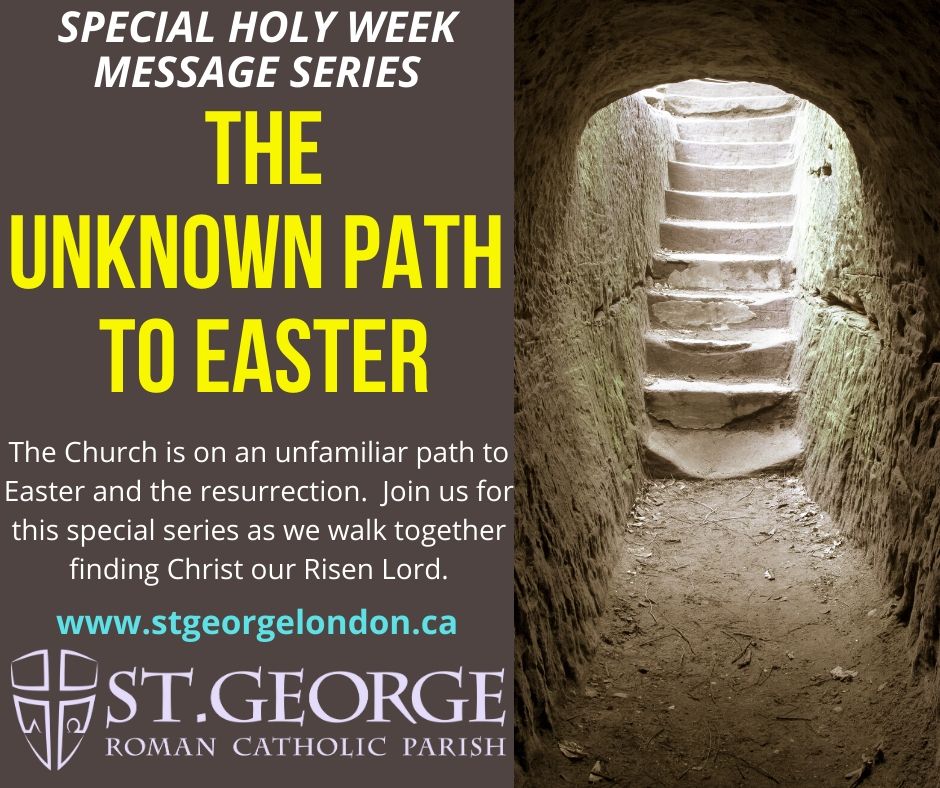 Due to the unfortunate reality of the COVID-19 pandemic, we are having a very unique and different path to Easter.  Schools and churches are closed in addition to many stores.  Just the essential services are helping us survive.  How about our faith?  Despite the fact we cannot go to Mass, receive communion or go to confession, the faith continues to be strong.  This might not be the path we want to travel right now, but it is the road that is before us and together we can witness to the grace and love that Christ can offer — the destination is the same but the lessons along the way may be different but just as powerful!!
UNKNOWN PATH TO EASTER MESSAGE TRAILER
DAY #1 – "A HUMBLE SUPPLICATION"
Fr. John introduces this special HOLY WEEK SERIES as an opportunity to be open to God's grace along this different path.  Even though we are suffering greatly in many different ways, God is with us and there are a number of opportunities before us as we journey together to Easter.  We need to humbly come before the Lord and beg for his grace, peace and strength.
DAY #2 – "OILS OF GLADNESS"
On the Monday night of Holy Week, the Diocese of London usually celebrates the MASS OF CHRISM where the Oils of the Sick, Catechumens and Sacred Chrism are blessed.  This year due to the pandemic, Bishop Fabbro celebrated this liturgy alone.  In the midst of this crisis these sacred oils can help us along the unknown path to Easter.  The remind us of our call to bring the fragrance of love, mercy and compassion to all in need.
DAY #3 – "GOD'S MERCY & FORGIVENESS"
Despite the fact that we cannot right now go to the Sacrament of Reconciliation, we can seek the Lord's mercy and forgiveness with an open heart, an examination of conscience and an act of contrition.  This session leads us through an examination of our souls seeking and asking for the Lord's forgiveness.  The Lord's grace works beyond the sacraments to comfort and strengthen those who are in need.
DAY #4 – "WE ARE ON THIS JOURNEY TOGETHER"
As the message series concludes, we realize that we are on this journey to Easter together.  During this difficult time we continue to choose God and others forsaking ourselves.  This challenging yet grace filled time can help us deepen our relationship with Christ and therefore make us stronger disciples of the Good News.