THE ULTIMATE ROAD TRIP: ESSENTIALS FOR THE HIGHWAY TO HEAVEN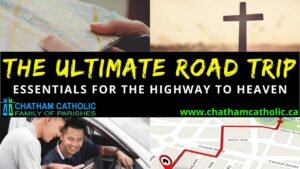 During the summer and may other times of year, all of us embark on road trips!!  Whether we are travelling to a great vacation destination or going to visit loved ones across the world–all of us need to connect.  For our road trip to be a success we need to plan, book and finally decided to go!!  As people of faith Jesus reminds us that we too are on a road trip to heaven.  As pilgrims to the new Jerusalem, we need to set our destination for eternal life.  We don't do this alone.  Jesus and others travel with us as companions on the journey.  Let's make sure that we set the goal and have the courage to help each other along the detours and traffic jams along the highway to eternal life.  The destination is clear and so we must act each day with this in mind.
HOMILY #1 – SET DESTINATION & FOLLOWS TRAFFIC LAWS
Fr. John begins this series like we would begin any road trip—decide where we are going and plan the route to get there.  Fr. John shares about a trip to Dayton, Ohio for the annual HAMVENTION (if you don't know what that is–you are really missing out).  He needed to set the destination, map out the route, plan for the border crossing and breakfast so that he could get a good parking space to make it to the opening of the flea market where all the deals would be.  For us—we are on a road trip to the new city of Jerusalem, that is, the Kingdom of Heaven.  We set the goal and follow Christ who helps us get there together!!
SESSION #2 – ON MISSION FOR GOD & EMBRACING THE JOURNEY
Fr. John continues the message series called THE ULITMATE ROAD TRIP: ESSENTIALS FOR THE HIGHWAY TO HEAVEN by offering two more essentials on our faith journey home. We need to journey together following God's plans and allow the journey to pass through us.
SESSION #3 – BEING LIKE MARY
Fr. John concludes the message series by reflecting on the gospel of Martha and Mary who invite Jesus to their house.  Mary chooses to sit at the feet of Jesus and connect with him while Martha was distracted by many other things.  Jesus tells us that Mary chose the better part that would not be taken away from her.  Fr. John shares with us the essentials of spending time with Jesus and putting our faith into action as the last two components needed for the highway to heaven!!