THE COMEBACK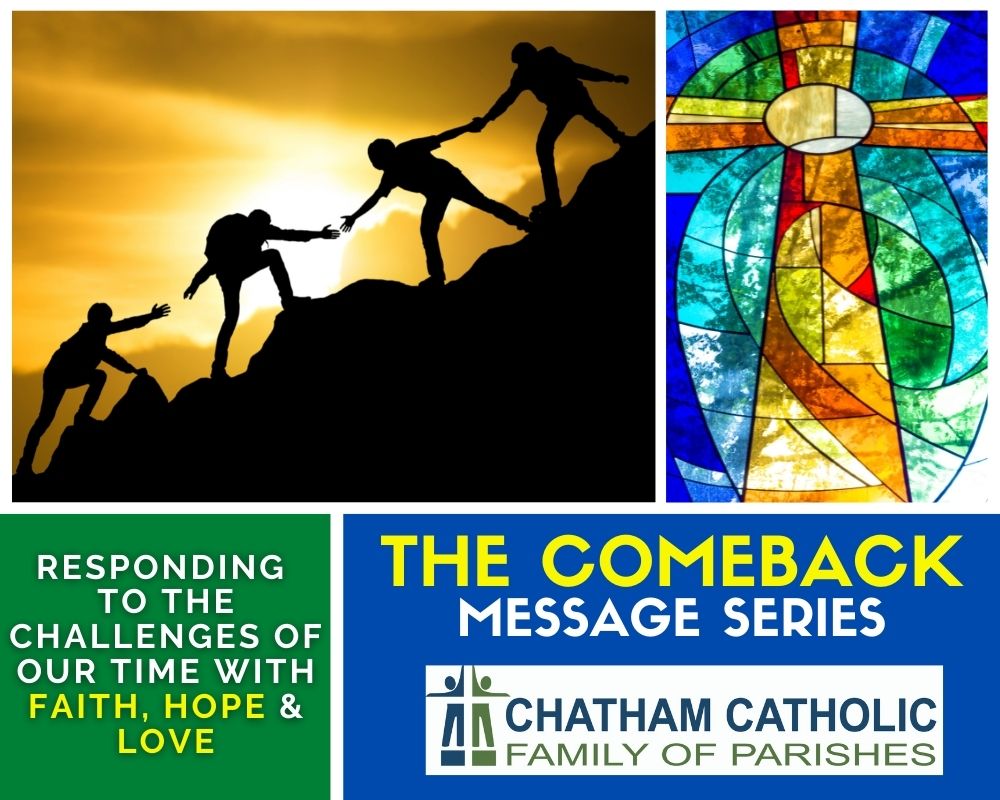 There are so many challenges and storms that we as a Church, country and world are facing today.  From the pro-longed global pandemic, the clergy sexual abuse scandal, Indian Residential School scandal, decreased church attendance and the world attitude that is all about "ME" can be truly overwhelming and beyond anything we can do.  Yet we know of the many "comebacks" that we have seen in history that can inspire us to overcome against all odds.  The world today needs a "comeback" to faith, hope and love—and it is up to us.  We cannot walk away but together seek ways to bring the light of Christ in this world.
HOMILY #1 – THE SITUATION
Fr. John begins this message series explaining what a message series is as he begins as the new pastor of the Chatham Catholic Family of Parishes.  He then offers different examples of comebacks (including a Boston Bruin reference) and why we need one in the Church, country and the world.  We do not do this alone as God is with us but we must remember to last and servant of all.
Check out Fr. John's SHIELD OF FAITH blog post about THE COMEBACK and what a message series really is.  Click here.
SESSION #2 – MOUNTING A "COMEBACK"
Fr. John continues in this second homily of the message series reminding all of us that we need to keep the bigger picture in mind—that is God's way to live thinking of heaven and not our own.  We also mount a comeback by transforming our own lives with God's grace and then together, we seek to change the world.  We need to respond with God's grace rather than react out of fear or emotion.  There is no question that we can mount a comeback with God's spirit and the gift of one another. 
Check out Fr. John's SHIELD OF FAITH blog post about LENT COMING AT THE RIGHT TIME TO COME BACK TO THE FATHER.  Click here.
SESSION #3 – TIME TO CHANGE
Fr. John concludes this message series sharing the future path for the Chatham Catholic Family of Parishes but also a need for change for all parishes to embrace the mission of the Gospel.  Fr. John talks about the young man in the Gospel wanting to gain eternal life—this can only happen when we let go of our own agenda/plans and follow the Lord without any distractions.  To be faithful disciples and followers of Christ, we must change and adapt often.
Check out Fr. John's SHIELD OF FAITH blog post about A TIME FOR CHANGE.  Click here.