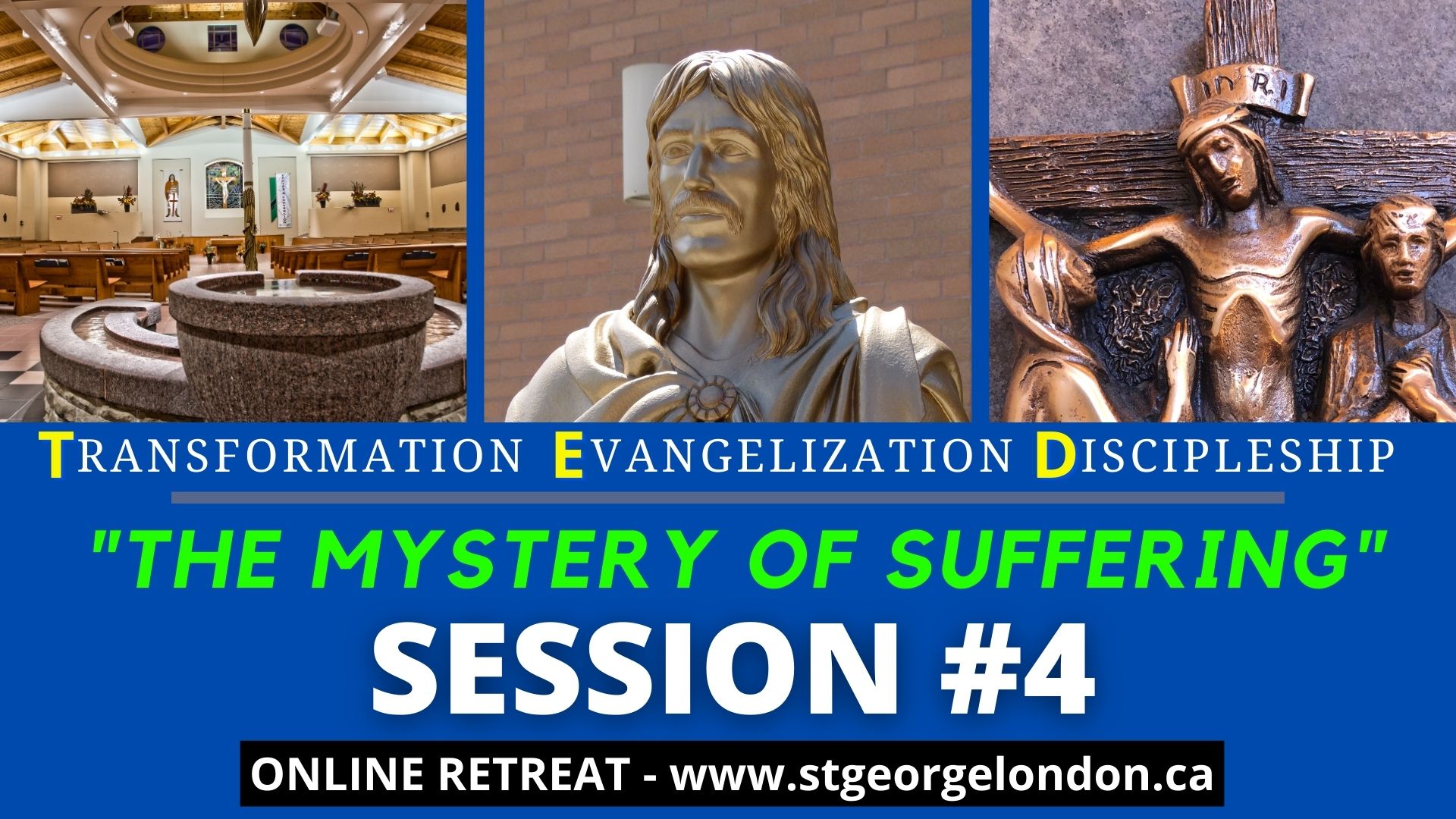 FORMAT FOR EACH SESSION
Begin with the prayer for specific for each session
Watch the TED talk video
Watch the reflection video by one of the pastoral team members
Pray over the scripture passage
Review Personal Reflection Questions
If you have any questions please e-mail the parish at [email protected] or call the parish office at 519-471-4220
SESSION #4 – Why Suffering Gave Me Power
Opening Prayer
O Lord help us to finally accept our suffering as a conduit to understanding your unconditional love for  the world.  Remove our difficulties associated with the sufferings within our own life so that victory over them can be an example of your mercy, your love, and your way of life.  Release us of the bondage ourselves especially when we are hurting or in pain so that we can see and do what you require us to do.  Teach us to offer up our suffering to you O Lord so that along with all other suffering we can eventually share in the freedom of giving to others the strength we have received from your life-giving power.  May your will be done always and may your healing touch be a part of our lives especially in evolving in our faith. We ask this through Jesus who lives and reigns with you and the Holy Spirit God for ever and ever.
Amen
Deacon Don St. Onge VIDEO REFLECTION
Luke 6:36-38
Jesus said to his disciples: "Be merciful, just as your Father is merciful.  Do not judge, and you will not be judged; do not condemn, and you will not be condemned.  Forgive and you will be forgiven; give and it will be given to you.  A good measure, pressed down, shaken together, running over, will be put into your lap; for the measure you give will be the measure you get back."
PERSONAL REFLECTION QUESTIONS
1. Scott Hamilton refers to the choice of succumbing or evolving once we get to the fork in the road where suffering challenges us in our own lives.   In what way can we benefit from the spiritual connection in our getting stronger?
2. How do God's mercy and forgiveness in our lives become the building blocks to a peaceful and joy filled life?
3. How can the work we do regarding this be helpful when we face suffering in the future?