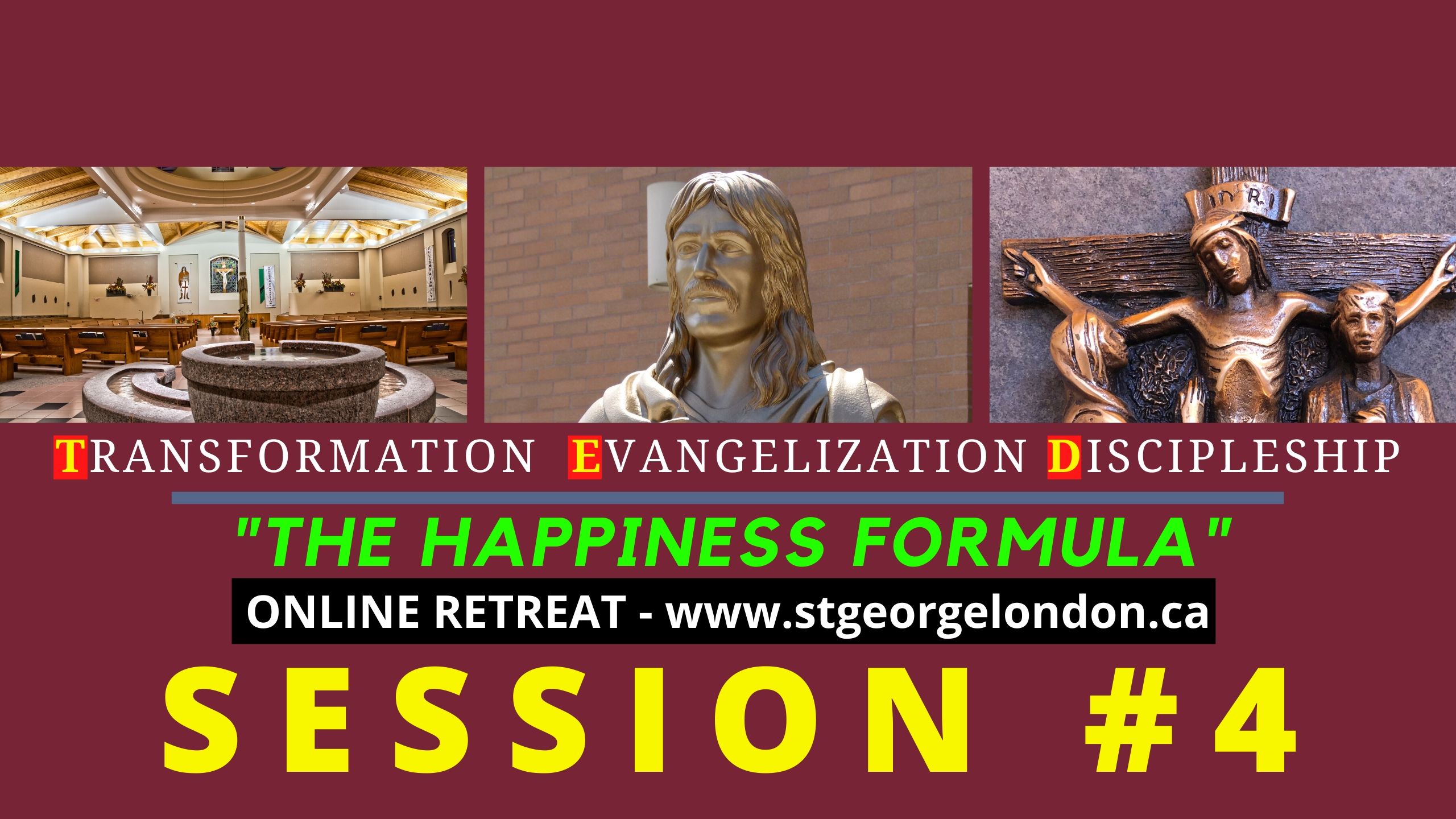 FORMAT FOR EACH SESSION
Begin with the prayer for specific for each session
Watch the TED talk video
Watch the reflection video by one of the pastoral team members
Pray over the scripture passage
Review Personal Reflection Questions
If you have any questions please e-mail the parish at [email protected] or call the parish office at 519-471-4220
SESSION #4 – THERE'S MORE TO LIFE THAN BEING HAPPY
Opening Prayer
Heavenly Father, the root of happiness is living a life of faithful discipleship.  To serve you by serving others builds opportunities of belonging, offering meaning and purpose that goes beyond ourselves.  May we discover transcendent moments of grace and share the story of our lives with others growing in wisdom, light and love that only you can offer.  Fill us with your love and may we be courageous witnesses of the Good News by placing you and others above ourselves.
EMILY ESFAHANI SMITH TED TALK
FR. JOHN'S VIDEO REFLECTION
MATTHEW 28:16-20
Now the eleven disciples went to Galilee, to the mountain to which Jesus had directed them. When they saw him, they worshipped him; but some doubted. And Jesus came and said to them, 'All authority in heaven and on earth has been given to me. Go therefore and make disciples of all nations, baptizing them in the name of the Father and of the Son and of the Holy Spirit, and teaching them to obey everything that I have commanded you. And remember, I am with you always, to the end of the age.'
PERSONAL REFLECTION QUESTIONS
(1) What is your understanding of belonging?  Have you ever been devalued or devalued someone?
(2) What brings you purpose and meaning in your life?
(3) What have been some transcendent moments in your life?  What did they mean for you?
(4) Have you ever shared your story with someone else?  Do you consider yourself a story teller?