FORMAT FOR EACH SESSION
Begin with the prayer specific for each session

Watch the Introduction Video by Fr. John

Watch the TED talk video

Watch the reflection video by Fr. John

Pray over the scripture passage

Review Personal Reflection Questions
If you have any questions please e-mail Fr. John at [email protected]
INTRODUCTION VIDEO FOR THE RETREAT
Please watch this video as an introduction and explanation of the journey ahead.  Fr. John gives some things to remember as we search for God in our daily lives.
SESSION #1 – Faith & Technology

Opening Prayer – Prayer of St. Benedict

Gracious and holy Father, grant us the intellect to understand you, reason to discern you, diligence to seek you,
wisdom to find you, a spirit to know you, a heart to meditate upon you.  May our ears hear you, may our eyes behold you, and may our tongues proclaim you. Give us grace that our way of life may be pleasing to you, that we may have the patience to wait for you and the perseverance to look for you. Grant us a perfect end–your holy presence, a blessed resurrection and life everlasting. We ask this through Jesus Christ our Lord. AMEN.
Speaking at TED in 1998, Rev. Billy Graham marvels at technology's power to improve lives and change the world — but says the end of evil, suffering and death will come only after the world accepts Christ. A legendary talk from TED's archives.
FR. JOHN VIDEO REFLECTION
Psalm 23 – A Psalm of David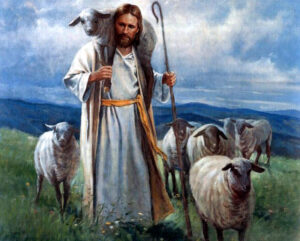 The Lord is my shepherd, I shall not want.
   He makes me lie down in green pastures;
he leads me beside still waters;
   he restores my soul.
He leads me in right paths
for his name's sake.
Even though I walk through the darkest valley,
I fear no evil;
for you are with me;
your rod and your staff—
they comfort me.
You prepare a table before me
in the presence of my enemies;
you anoint my head with oil;
my cup overflows.
Surely goodness and mercy shall follow me
all the days of my life,
and I shall dwell in the house of the Lord
my whole life long.
PERSONAL REFLECTION QUESTIONS
(1) What marvels of science or technology that has helped us?
(2) What does society believe technology has solved in our world?
(3) How do you bring Christ in your heart and soul today?
(4) How can faith in Christ solve the challenges of evil, suffering and death?
(5) What aspects of life is it hard to find Jesus or to let Him in?