REPENT
WHAT DOES THIS REALLY MEAN FOR US?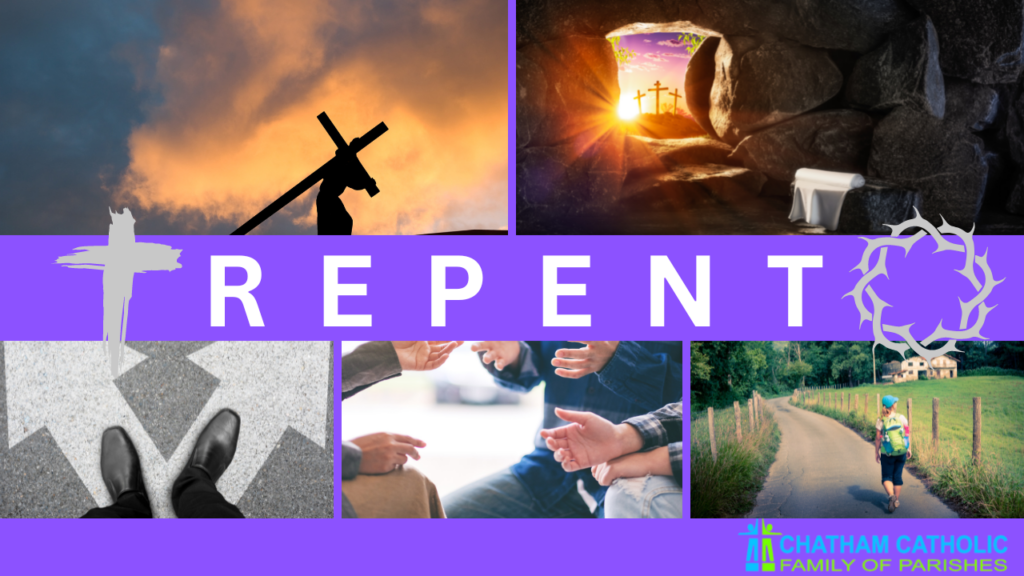 During the Season of Lent we are called to repent.  What does this really mean for us?  Initially, I think we all simply understand that as turning away from sin—and seeking the Lord's forgiveness.  Lent calls us to REPENT AND BELIEVE IN THE GOSPEL. 
Is this all that it is?  If we really want to turn away from sin what do we actually need to do?
This message series reflects on the full meaning of repentance.  We are called not just to turn away from sin but to totally transform our lives, turning them right side up so that Christ is at the heart of everything we do.  To actually repent means embracing the path God has set out for us—our mission to be disciples in our world today!!
HOMILY #1
WHAT DOES REPENT REALLY MEAN?
In the first homily of this series Fr. John reflects on the word REPENT defining what it really means.  We so often forget that it is more than just turning away from sin but completely transforming our lives so that Christ is at the centre.  This takes effort and the temptations Jesus endures in the desert from the devil helps us fully turn around and embrace the Lord.
HOMILY #2
MOUNTAIN TOP TRANSFORMATION
In the second homily of this series Fr. John reflects on the scene of the Transfiguration—a third epiphany moment in which we discover who Jesus really is as the Son of God.  We ascend a spiritual mountain each week as we gather to celebrate the Eucharist so that we can descend into the world filled with light, hope and joy.  Fr. John talks about the opportunity for true repentance for the Chatham Catholic Family of Parishes during the IGNITE THE MISSION journey.
HOMILY #3
FROM BLINDNESS TO SIGHT
Fr. John concludes the REPENT message series by reflecting on the powerful story of the man born blind. What do we need to let go of so that we can see Christ who completely transforms our lives?