INSOMNIA
THE LIES THAT KEEP YOU UP AT NIGHT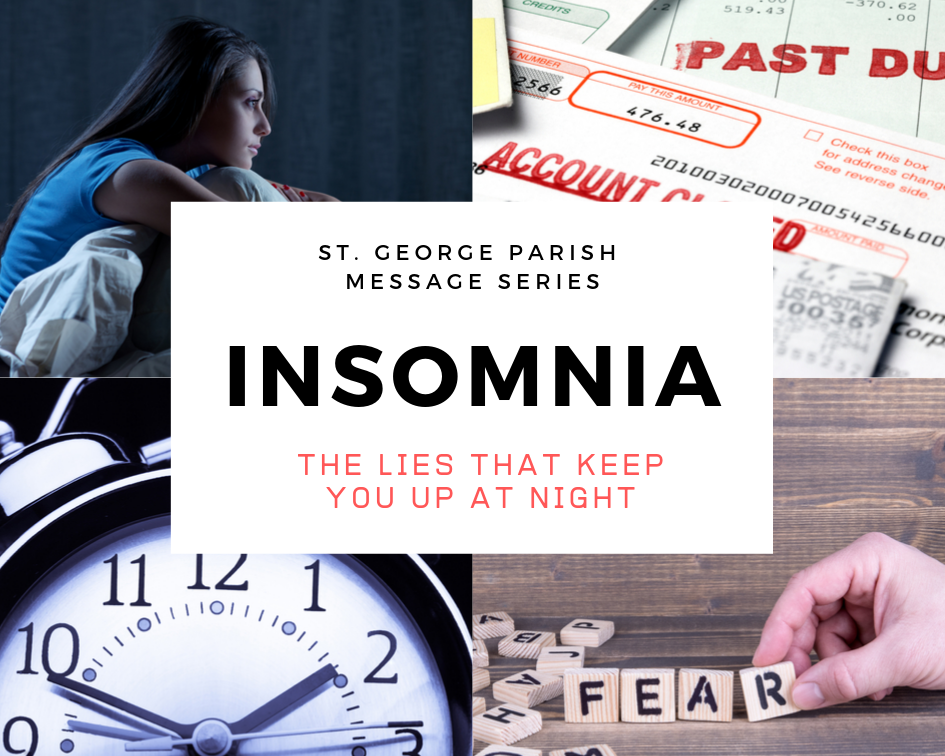 Everyone experiences fears. Fears often hold us back from what we desire to achieve or the people we want to become. But what is behind our fears? Very often our fears are based on lies or half-truths we have come to believe. Overcoming fear requires getting to the root of those lies and finding out the truth about God and ourselves. In this series, we look at some common fears and how to overcome them. 
WEEK #1 – INTRO & THE FEAR OF ABANDONMENT/REJECTION
Fr. John introduces the message series sharing the common theme for the weeks ahead and focuses in on the common fear of being left alone or rejected.  We always seek to fit in, to be part of a group or community.  We always want to connect with people and of course have people we can count on.  We can even feel abandoned by God.  God is always with us and calls us into community.  We can always trust in God's gracious support that we are really never alone.
Click here to read a SHIELD OF FAITH article by Fr. John called What Keeps You Up at Night?
WEEK #2 – MONEY FEARS
Deacon Dennis preaches about the real and practical money fears we have.  Can we pay the bills?  Can we send the kids to university?  Can we make the mortgage payments?  We need money but fearing its loss or not having enough can keep us from a healthy relationship with God or others.  Our faith helps us gain a different perspective on finances and how much of a priority it is in our lives.  Often times we think it will be the base of our happiness, but so often our pursuit of money causes us great pain and suffering.
CLICK HERE to read a SHIELD OF FAITH article by Fr. John called Just a Little Bit More
WEEK #3 – THE FEAR OF DEATH
Fr. Pedro preaches about one of the most common fears we have — death.  While this world has its own trials and tribulations and is often a valley of tears, Jesus assures us that there is a resurrection from the dead and that death is not the end but the beginning of something more.  In this message, we will explore our fear of death and how the promise of resurrection can help us overcome our fears.
CLICK HERE to read a SHIELD OF FAITH article by Fr. John called Death-Where is Your Sting?
WEEK #4 – THE FEAR OF LOSING STABILITY
Deacon Mark reminds us that the world and its structures are uncertain abut we do not need to fear because God is always certain and always with us.  Jesus predicted the destruction of the Temple which was the centre of their society.  It was a symbol of Judaism and everything they knew and believed.  Yet, it was going to come down.  Jesus told the disciples not to fear, but to persevere and they would secure their lives.  Our faith is not in the current systems or structures but in the God who loves us and provides for us.  Often we fear change around us because it signifies a loss of control or loss of what is comfortable.
CLICK HERE to read a SHIELD OF FAITH article by Deacon Mark Castanier called The Fear of Losing Stability
WEEK #5 – CELEBRATING OUR PARISH FAMILY & MISSION
Fr. John concludes the message series by reminding all of us of the parish as a gift—as a place of hope and joy and the mission we have to proclaim the GREAT NEWS of salvation.  This weekend we celebrate the Solemnity of Christ the King — he is our Lord and with his help we can face any fear with light, courage and faith!!
CLICK HERE for a SHIELD OF FAITH article by Fr. John who writes about Christ the King and celebrating our parish family.