FACES OF ADVENT SERIES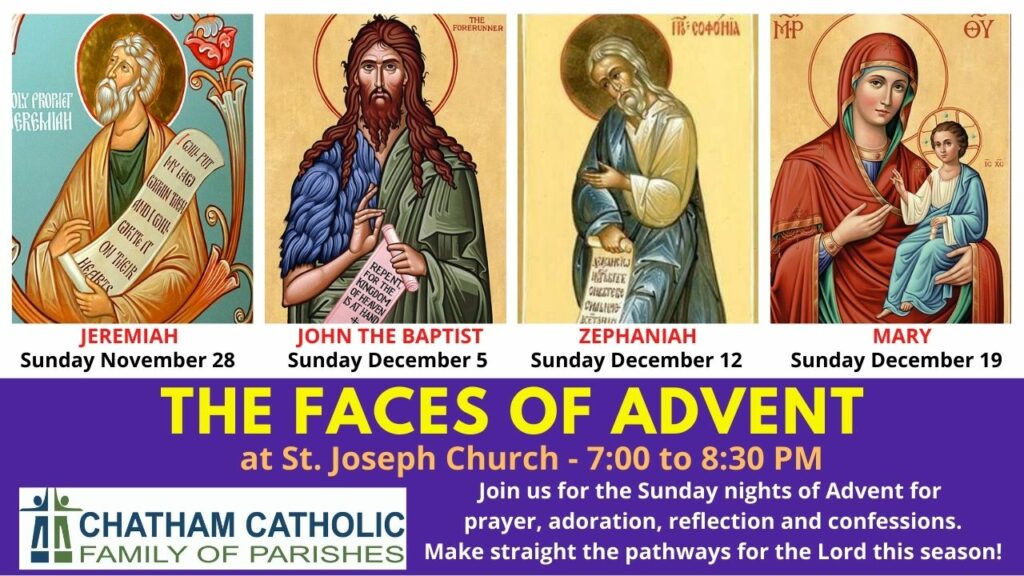 The great season of Advent is a chance to prepare the way for the Lord.  We prepare our hearts and homes for the coming of the Lord.  The figures in the readings of the Advent season can teach us and help us welcome the Word made flesh!  This series looks at the faces of Advent in Cycle C of our readings.  Jeremiah, John the Baptist, Zephaniah and Mary brings us to the love of Christ.  Let us walk with journey together!
WEEK #1 – THE PROPHET JEREMIAH
Fr. John begins this special series exploring the ministry and message of Jeremiah–the weeping prophet.  Jeremiah was called by God to warn the people of Israel that they have strayed from the path and their downfall was coming at the hands of the Babylonians.  Jeremiah was reluctant to proclaim such a difficult message and was rejected because of it.  His prophecies came true!!  What can Jeremiah teach us during Advent and the call of a reluctant disciple seeking to serve God always?
WEEK #2 – JOHN THE BAPTIST
Fr. Robert continues the series by looking at the role of John the Baptist during our Advent journey and how he helps us draw close to the love of Christ.  John the Baptist is the bridge from the Old Testament prophets and the gift of the Saviour.  He has the privilege of pointing to the Lamb of God who saves us.  How does John the Baptist help us make straight the pathways for the Lord?
WEEK #3 – ZEPHANIAH
Fr. John returns in this third week of the series reflecting on the ministry of the prophet Zephaniah.  He is a contemporary of Jeremiah, one of the twelve minor prophets and proclaims the Good News during the reign of King Josiah.  The Book of Zephaniah is only three chapters and is filed with prophecies of loss, redemption and salvation.  Zephaniah calls us to turn away from our selfish ways and to trust in the Lord—who always saves us!
WEEK #4 – MARY
Fr. Dariusz concludes the the Faces of Advent series reflecting on Mary, the Mother of God and Mother of the Church.  Mary becomes the perfect face of Advent that leads us right to Christmas.  Her faithfulness, dedication and openness to God's grace helps us in our world today.