CATHOLIC ATHEIST
REMEMBERING GOD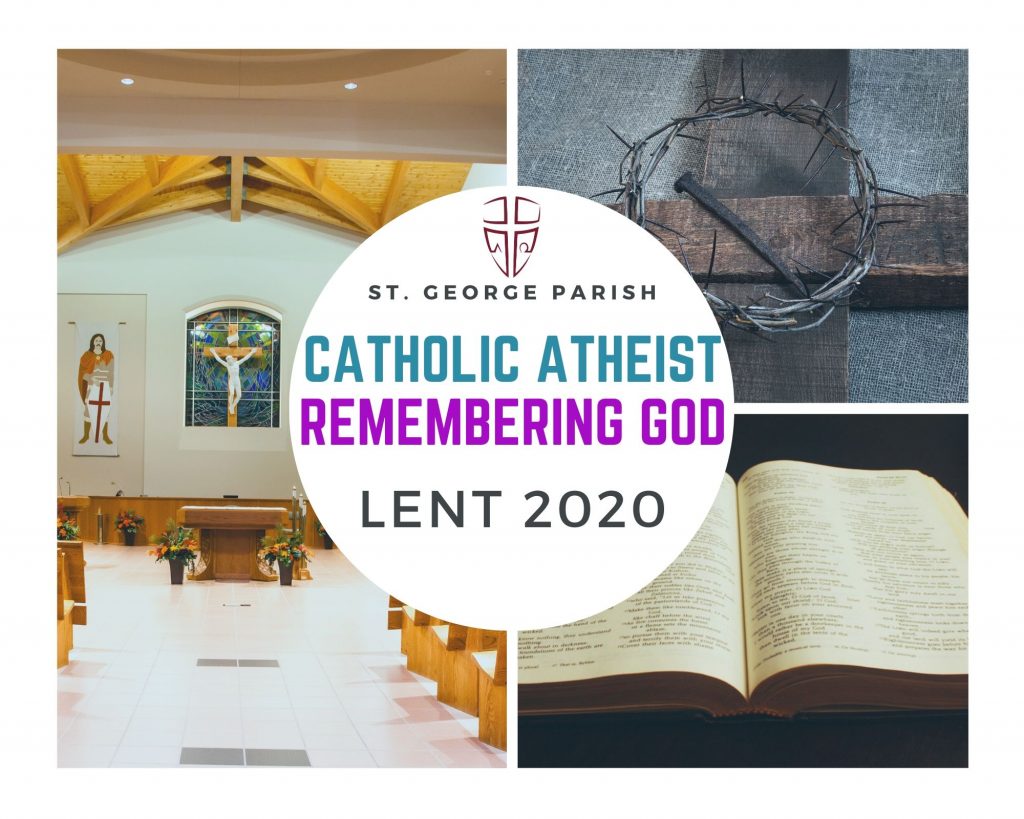 Most of us know what our Catholic faith tells us and teaches us but does it connect with our hearts and actions?  We often times slowly drift away from God and act as if he didn't exist.  It seems as though we have been dismembered from God.  Lent is a wonderful and joyful season to reconnect, rekindle and remember God as the most important member in our lives.  How can we do this?  This five week series gives us some ideas on how to stay close to a God who loves us so much!!
CATHOLIC ATHEIST MESSAGE TRAILER
WEEK #1 – INTRO & GOD LOVES US!!
Fr. John Jasica introduces this five week series by letting us know that in many ways we slowly drift away from God and act as if he doesn't exist.  We profess a faith that at times we are passive about.  We go to church but it doesn't affect our lives.  How can we turn back to God and how can we truly experience God's grace during the Lenten season so that Easter becomes a life changing experience.  How can we REMEMBER and reattach ourselves to God's presence.  This series will help us get there!!
Click here to read a SHIELD OF FAITH article by Fr. John about the importance of this series and on how God loves us!!
WEEK #2 – THE POWER OF PRAYER
Deacon Dennis continues our message series called CATHOLIC ATHEIST: Remembering God. Sometimes we drift away and forget to live our faith from Monday to Saturday. How can prayer help us? Praying is really our conversation with God and language we use to dialogue with the divine. Prayer allows us to REMEMBER GOD and transforms our hearts!!
WEEK #3 – GOD OFFERS US PEACE & DISPELS WORRY
Fr. John Jasica continues the series talking about peace in the midst of our fears and worries.  This comes at the time when all Masses with the faithful were cancelled by Bishop Fabbro due to the COVID-19 pandemic.  In the midst of this terrible crisis, Fr. John reminds us of the call to lean on our faith that supports us no matter what.  God is always with us!
WEEK #4 – UNDERSTANDING GOD
Fr. Pedro continues our series trying to remember God in our lives.  One of the ways is by understanding God more.  God is not some a concept, idea or a distant disconnect divine entity.  God is a divine person who longs to be in relationship with us and through our prayer and lives we can get to know him better.
WEEK #5 – GOD CAN CHANGE US!!
Fr. John Jasica concludes this series by challenging us to choose God above other things so that his spirit may dwell in us.  One of the most powerful ways we can allow the spirit in our hearts is through suffering.  When we suffer we peel away all those things that are false and lack importance in our lives leaving us focused on God, family and friends!!  See how God can change your life today!!
Click here to read a SHIELD OF FAITH article by Fr. John who offers us ways to deepen our spiritual lives at home!!