ADVENT PARISH MISSION 2022
OPENING OUR MINDS & HEARTS TO THE
UNIVERSAL CALL OF THE NEW BORN KING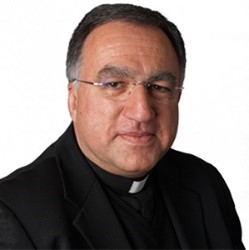 Fr. Thomas Rosica, CSB, leads us in this powerful Advent mission.  This coming Advent, the Church asks us to lift up our eyes toward the ends of the earth and to embrace the universalism that Matthew's Gospel subtly introduces in his genealogy. Matthew's story of Jesus' origins is told from Joseph's point of view, while the more familiar infancy account from Luke is told from the perspective of Mary.
Do we trust that a loving, personal God guides each of us as well as the tragic events of contemporary history? Are we so caught up in our own families or our own work that we rarely raise our eyes to the larger world of the poor on other continents? Matthew's Infancy story of Jesus reminds us to make Advent a time of peaceful trust in God's providence and to make Christmas a celebration in which we open our eyes, minds, and hearts to the universal call of the newborn Lord.
Fr. Thomas Rosica, ordained in 1986, is a member of the Congregation of St. Basil (Basilian Fathers), a biblical scholar, lecturer, author and retreat director. He has lectured across Canada, the USA, Ireland and in Israel. He was formerly Pastor and Executive Director of the Newman Centre Catholic Mission at the University of Toronto, National Director and CEO of World Youth Day 2002 in Canada and the founding CEO of the Salt and Light Catholic Media Foundation in Canada. He was also President of Assumption University in Windsor and has lectured throughout the London Diocese since his first pastoral assignment in Amherstburg in 1985.
REFLECTION #1
"How much do you know about the Gospel Infancy Stories?"  The Genealogy of Matthew's Story
REFLECTION #2
"Spotlight on St. Joseph in Matthew's Infancy Story"
REFLECTION #3
"Advent & Christmas 2022 with Matthew's Gospel: Emmanuel, God With Us"