REFLECTING ON OUR WEEKLY PRAYER
Last weekend I shared the first of four articles (article #1—CALLED TO BE MISSIONARIES) reflecting on our IGNITE THE MISSION PRAYER that we have been saying each weekend in our family of parishes.  The journey ahead for us will require a lot of changes, transitions and sacrifices so that we can continue to transform the world.  Prayer keeps us rooted in God's love and of course on His path—not our own.  Where is the Lord leading us in this time of transformation?  Prayer helps us discover the way.
The second stanza of the prayer asks the Heavenly Father for the gift of the Holy Spirit to inspire us to be new signs of hope in our world:
Send us your Holy Spirit so that, in this new effort of evangelization, we become flames of faith, hope and love within our families,
in our communities and in our workplaces.
WE NEED THE HOLY SPIRIT!!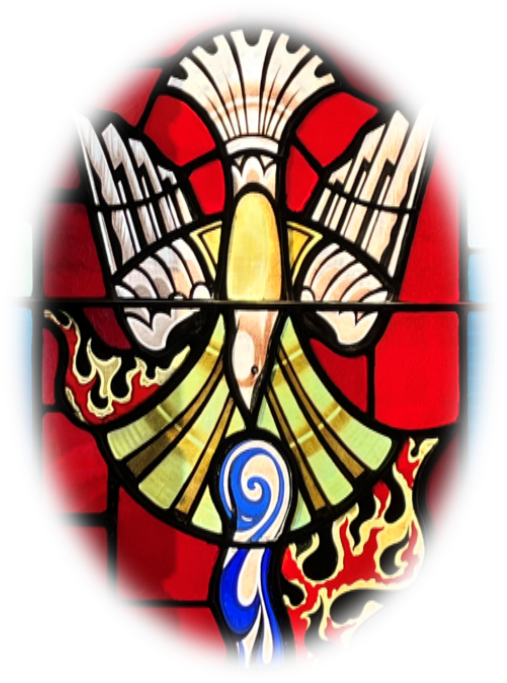 We need the presence and the power of the Holy Spirit to become true missionaries and saints in this new era.  We need to become examples of faith for the world, we need to model true hope and joy that goes beyond material wants—and all this needs to be fueled in our churches but expressed fully in our families, workplaces and the greater community.  We can only do this with the Holy Spirit.  Pope Benedict XVI shared this insight with pilgrims during World Youth Day in Australia when he said,
"The Spirit's gifts working within us give direction and definition to our witness.  Directed to unity, the gifts of the Spirit bind us more closely to the whole Body of Christ, equipping us better to build up the Church in order to serve the world…Yes, the Church must grow in unity, must be strengthened in holiness, must be rejuvenated, must be constantly renewed.  But according to whose standard? The Holy Spirit's! Turn to him, dear young people, and you will find the true meaning of renewal."
(Pope Benedict XVI—Saturday July 19, 2008)
In order for us to be renewed as a family of parishes and as children of God, we need the Holy Spirit to be with us and guide us to where our Heavenly Father wants us to be.  The road ahead is not completely clear but we know that we are not alone.  The Holy Spirit beckons us to trust and follow realizing that our mission is to be real signs of hope in our present world—resisting the temptation of yearning for the past but growing from our rich history of faith that helps us face the challenges of today and tomorrow.
BEING HOPE FOR TODAY & TOMORROW
If we are going to become flames of faith, hope and love in our world today—so that people may encounter Christ through us, we will need to discover methods and opportunities that are noticed by society.  People today are distracted in so many ways and have forgotten the grace and gift of faith that is at the core of our lives.  How can we make the world see Christ again?
In our IGNITE THE MISSION discernment journey we have and will continue to pray, dialogue and act with the grace of the Holy Spirit.  One of the most powerful and critical moments of our journey so far have been the "sharing sessions" and feedback forms we received.  The conversation, wisdom and input has and will continue to help us work together being relevant, meaningful and life changing for our culture today.  Pastoral Council, Finance Committee and Pastoral Team members are already making "sharing sessions" a regular component of consultation, cooperation and planning.  I have been truly blessed and thankful for the gifts and graces experienced during these sessions.  I look forward to the upcoming gatherings as we work together to share the Good News!
WE NEED NEW WAYS TO BE CHURCH
In an address for the opening of the synod in 2021, Pope Francis is reminding all of us for the need to change what we do and how we do things for a new time and a very different world.  What does not change is Christ, the truth and gift of our faith.  How we share, communicate and live that out will be guided by how best we can engage and challenge the world today with the love, hope and joy of Jesus.  Pope Francis said:
"Finally, the temptation of complacency, the attitude that says: 'We have always done it this way' and it is better not to change.  That expression — 'we have always done it that way'— is poison for the life of the Church.  Those who think this way, perhaps without even realizing it, make the mistake of not taking seriously the times in which they are living.  The danger, in the end, is to apply old solutions to new problems."
 (Pope Francis—Saturday October 9, 2021)
 May we be united as a family of parishes through the Holy Spirit seeking powerful and meaningful ways to radiate the love, hope, joy and peace that Jesus brings us now and leads to eternal life.  May discover new ways to share the Gospel that radiates grace!