By: Fr. John Jasica
AND SO WE BEGIN—WITH GOD'S HELP
This weekend we officially begin the prayerful consultation and discernment process for the future of our Chatham Catholic Family of Parishes.  I want to thank the Family Pastoral Council, Family Finance Committee and the Family Staff for their wisdom, support and dedication to our faith community in addition to their enthusiasm and hope for the future.
We enter into this process seeking to re-embrace a missionary and apostolic vision (see my article from the February 12, 2023 bulletin) that will shape the structure of our family of parishes.  It is not just about closing churches, although that is definitely part of what is necessary but not the biggest component of the journey ahead.
Together, we need to prayerfully discover how we can most effectively adapt everything we do so that our world today can encounter Christ through us.  This will require various sacrifices from all of us for the sake of proclaiming the Good News and future generations of Catholics in Chatham.  Despite the challenges of the task ahead, I am excited at the opportunities that are before us.
(1) PRAYER
We begin our discernment journey with prayer.  You will find in this weekend's bulletin a prayer entitled IGNITE THE GOSPEL.  We as a family of parishes will pray this regularly at our five churches in addition to asking all the faithful to pray it during personal prayer.  We need to ask our Heavenly Father to send us the Holy Spirit so that we can have the courage and wisdom to become Apostles in our time.  We all know that the power of prayer can move mountains.  I believe that our prayer for the future mission of our family of parishes will open hearts to God's will and not our own.
(2) IGNITE THE MISSION: INTRODUCTION & GENERAL SUMMARY
You will also find a two page introduction and general summary of the current circumstances in our family of parishes.  It highlights some of the challenges we face and the need for change.  This insert is also being sent out to all registered parishioners via our LENT/EASTER mailout that you will be receiving shortly.  We want as many people as possible to be involved in the discernment process.
(3) IGNITE THE MISSION: APOSTLES FOR A NEW ERA
This full, in-depth document is available for everyone at the back of each of the five churches of our family in addition to the family of parishes website (www.chathamcatholic.ca).
This document is divided into three major sections.  Part One reflects on the baptismal call that we share as missionaries of the Gospel—the heart of our Catholic faith.  There are references to scripture, Church documents, Pope Francis and Bishop Fabbro.  This section answers the question — WHAT IS OUR MISSION?
Part Two describes the circumstances and challenges we face as a family of parishes in 2023.  There are a number of factors that we all need to be aware of as we discern the future.  Statistics from the family of parishes in addition to information about Chatham-Kent and Canada are included.  This section answers the question — WHERE ARE WE RIGHT NOW?
Part Three describes the planned response to form disciples who reach out to all.  The pastoral plan is not general in nature, but has clear definitions of what a disciple should be and how we will reach out bringing Christ to the world.  This pastoral plan was developed by the Pastoral Council, Finance Committee and Family Staff.  The implementation of this plan has already begun.  This section answers the question—HOW ARE WE GOING TO BE APOSTLES IN THIS NEW ERA?
(4) SHARING SESSIONS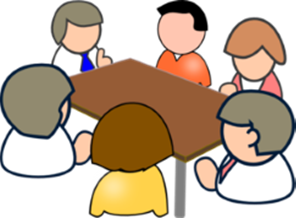 We are inviting parishioners to pray, read the documents/resources provided via the bulletin and website and then gather to share/listen.  We will be hosting SHARING SESSIONS throughout March seeking feedback on the three following questions (which I will share more about in next week's bulletin).
What are the essential elements for our family of parishes to be a vibrant, relevant and mission focused faith community?
What are the blessings and challenges in our family of parishes today?
What decisions do we need to make so that we can most effectively fulfill our mission to form disciples who reach out to all?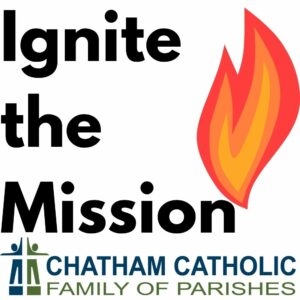 People will be able to complete feedback forms at the SHARING SESSIONS, via the family website and at home with forms available at each church site.  SHARING SESSIONS dates/times/locations are available in the bulletin this weekend.
So the TIME IS NOW—I know that together we will become what God wants us to be as instruments of love, peace, hope and Christ for Chatham and the world.
ALL INFORMATION FOR OUR JOURNEY CAN BE FOUND AT THE FAMILY WEBSITE
CLICK THE IGNITE ICON AT THE TOP OF THE MAIN PAGE.