END OF THIS SERIES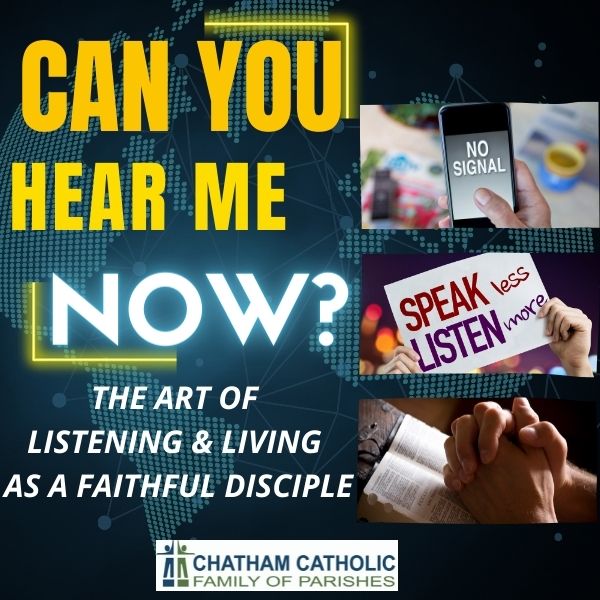 This weekend, I conclude this four homily message series called "CAN YOU HEAR ME NOW?"  Hopefully it has been a chance for all of us to open our hearts and minds more, embracing the gift of God and others in our lives.  If you have missed any of the series or would like to go through it again, you can go to www.revjj.ca and click MESSAGE SERIES.  There you will find this series and all the other ones I have done over the last few years.
As we conclude this series, it is good to not only listen to each of the reflections but to find out how we can make real "conscious listening" a more significant part of our lives.  To be a true follower of the Lord means that we need to hear his voice and change our lives to be signs of light and hope in our world.  We also need to be attentive to one another, helping each other on the journey of life seeking to heal wounds and tear down walls of division that separate us.  All of this takes practice, courage and of course faith!!  Will we truly listen? 
LISTENING CAUSES TRANSFORMATION
How can we really listen better?  Julian Treasure, a communications expert, who I have referred to this entire series, suggests five ways to listen better that I know can help us in our relationships with God and one another.  The last way he suggests that we listen is an acronym — RASA.  The word "rasa" in Sanskrit means, "nectar, essence, taste".  To get to the heart of what it means to really listen, Julian Treasure says that we need to Receive, Appreciate, Summarize and Ask.  We have to pay attention, make little noises of appreciation, consolidate what we are receiving and ask questions for clarification.  RASA is a way that we can grow in our faith and appreciate those around us—being able to discover the truth and so become better and more faithful disciples living the Good News each day.
If we truly listen, our lives are transformed.  We hear this in the second reading from Paul's Second Letter to the Corinthians this weekend we he writes, "If anyone is in Christ, there is a new creation: everything old is passed away; see, everything becomes new." If we truly open our hearts to Christ and others, we are made new like the transition from the darkness of winter to the new life of spring.  We change from the bitter cold and freeze to the warm rays of the sun that brings everything back to life.  What an amazing transformation!!
LENT— A TIME OF TRANSFORMATION
Lent is that time for us to transition from the freezing power of sin to the warm rays of the resurrection that frees us from sin and death offering us a new way of life.  In order for us to receive this transformation, we not only need to receive this grace from Jesus, but we must also share it with others.  We have to become agents of change as well—sharing the grace with those in need.  This is how we can truly change the world.  We do not do this alone.
THE STORY OF THE PRODIGAL SON—A WASTEFUL FATHER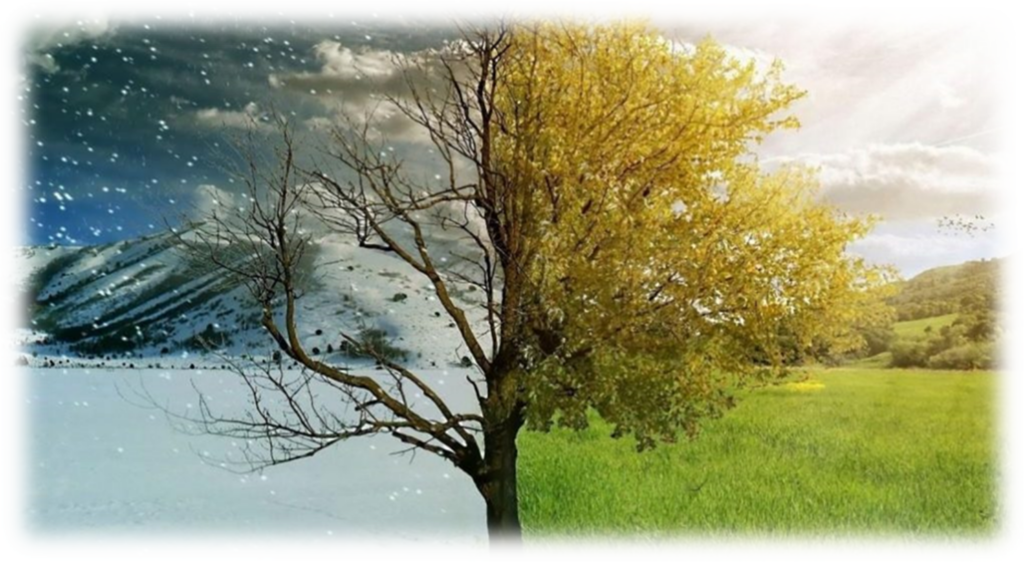 This weekend we are presented with the powerful gospel parable of the Prodigal Son.  This is a story that we know very well and sometimes that can be a disadvantage.  We can be so familiar with something that we don't listen to it as attentively as we should.  This story of over abundance or wastefulness is not really about the son who spends all of his inheritance.  It is all really about the wasteful father who loves both of his sons!!  The father in the story is really our Heavenly Father.  God is overly generous with his love, peace, mercy and forgiveness.  This overwhelming love totally transforms our lives!!
THE OTHER SON
We so often focus on the son who asks for his inheritance, wastes it all and then humbly comes back to his father.  This is of course extremely powerful and I think we can all relate to the grace of forgiveness offered.  In fact, what makes it really meaningful for me is that the father does not wait for the son to come home and apologize, but runs out to greet him, embracing him and giving him new clothes, sandals and a ring to celebrate his return.  The one who was lost has come back to life—he has been found.  We sometimes stop there, but I think it is important to also reflect on the other son who remained faithful—he too needs love and mercy from the father.
LISTEN TO THE PRODIGAL FATHER
The other son is disappointed and jealous wondering if his faithfulness is even noticed by his father as we hear in the gospel, "Listen!  For all these years I have been working like a slave for you, and I have never disobeyed your command; yet you have never given me even a goat so that I might celebrate with my friends."  I think that at times we can be like this other son who feel forgotten even though we are dedicated, committed and faithful with our family and friends, at work and even our faith.  Is it recognized?  Are our sacrifices appreciated and rewarded?  How can someone who failed be celebrated but one who is faithful ignored?
The father's response to the faithful son is really important to the parable but also in our lives, "Son, you are always with me, and all that is mine is yours.  But we had to celebrate and rejoice, because this brother of yours was dead and has come to life; he was lost and has been found."  What a compassionate, gentle, loving and caring father who seeks to restore relationships.
WHAT HAPPENS WHEN WE LISTEN?
When we truly listen to God we go beyond ourselves and are transformed to become messengers, ambassadors and distributors of grace, love and forgiveness to everyone around us.  We become very wasteful disciples of light for everyone so that others may experience God's presence in their lives.
When we listen to each other, I think we grow in a deeper appreciation of the many different gifts, voices and perspectives that can help each of us realize that we are in this one pilgrimage together and that we need one another.  May we always have open hearts and minds being attentive to the voices around us.