TED ONLINE RETREAT—SEARCHING FOR GOD

This is the last week to sign up for the latest TED (Transformation—Evangelization—Discipleship) retreat that will begin with the release of Week #1 materials on Friday February 4th.  This is a free retreat that is open to all!!  Sign up via the link at our family of parishes webslte—-www.chathamcatholic.ca
THE BEGINNINGS OF TED RETREATS
I have always enjoyed watching TED (Technology, Entertainment, Design) talks online where people talk about many different topics.  It is a great way to learn and be inspired by some very creative and talented people.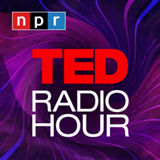 I also love listening to an NPR podcast called the TED Radio Hour where the host explores a single topic using a number of different TED talks and interviews the speakers diving deeper into the issue and their presentation.  This gave me an idea of using TED talks from different genres to deepen our understanding of faith.  It is amazing to see how TED talks on architecture, spaghetti sauce and better ways to listen can help us draw closer to God and one another in our Catholic faith.  Seeing things with the lens of faith definitely helps us grow as faithful and loving disciples.
Years before the pandemic, in my previous appointment, I hosted an in-person TED retreat with a very good response from those who attended.  It made them think a bit differently and challenged them to find God's presence and grace in some unusual places.  This became the foundations for what is now my fifth TED online retreat.
WHAT IS A TED RETREAT?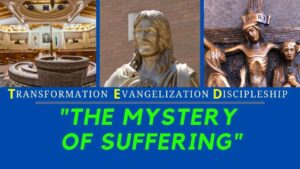 At the beginning of the pandemic and the first lockdown, nearly two years ago, I wanted to find a way to support parishioners during this most challenging time while also recognizing the opportunity to connect with many people who were forced to slow down and stop.  Many people were searching for meaning and for God.  Despite the great struggles the pandemic has brought, it has also challenged all of us to re-examine who and what we value the most.
The TED retreat format is focused on one particular topic of faith (past topics have been THE HAPPINESS FORMULA, BUIDLING FORGIVENESS, MYSTERY OF SUFFERING and BE THE CHANGE — to journey throught these past retreat on your own please go to www.revjj.ca/retreats-prayer) using a range of TED talks.  Each session includes an opening prayer, scripture passage, a faith video by me and reflection questions.  I have also set up a comments section for each session so that people can share their thoughts and connect with one another during the weeks of the retreat.
Each week participants are also invited to an optional online/call-in group discussion allowing people to share their thoughts, experiences and insights.  It really is a great way for people across North America to support one another.  The TED retreats have drawn between 150 to 200 people each time from London, Woodstock, Goderich, Toronto, Chatham, the United States and beyond.
"TED" CAN HELP
These retreats are a great way to bring the world of technology, entertainment and design into the sphere of our faith seeing the hand and grace of God in many unexpected places.  God speaks to us in unusual ways but are we really listening?  Are we alert and attentive to the sound of His voice in our hearts? 
These online retreats are a great way for me to grow in my own faith. I love trying to find an important faith topic to discuss and search for TED talks that help me develop, grow and deepen my faith.  Sometimes this is a challenging process searching the TED library of talks and seeing how the puzzle pieces fit together.  Other times this is very easy yet always in the end, God surprises me with the perfect talk to include in the retreat. 
I think "TED" can really help!!  (and just so you know, I don't mean my brother Ted, although he is a great guy and very helpful!!)  I have always thought of technology as a tool to help us grow in our faith and help us become loving and intentional disciples who seek to transform the world with Christ's love.