In the second homily of this message series I talked about the need to READ THE SIGNS OF THE TIMES FINDING & SHARING GOD'S GRACE.  We all need to see what is happening around us looking for God's presence and finding ways to share that presence with those who are in need. 
I referred to the letter issued by Pope Francis for the Fifth World Day of the Poor which calls us to be in solidarity with those in need.  Pope Francis reminded us that if we want to find Jesus then we need to serve the poor.  The poor are not a group outside of society or simply an act of charity on our part, but we need to make room for the poor at our table as brothers and sisters.
As we come to the conclusion of this three homily message series we reflect on the basic fundamental foundation for the gift of our faith—it's all about relationships!
CHRIST THE KING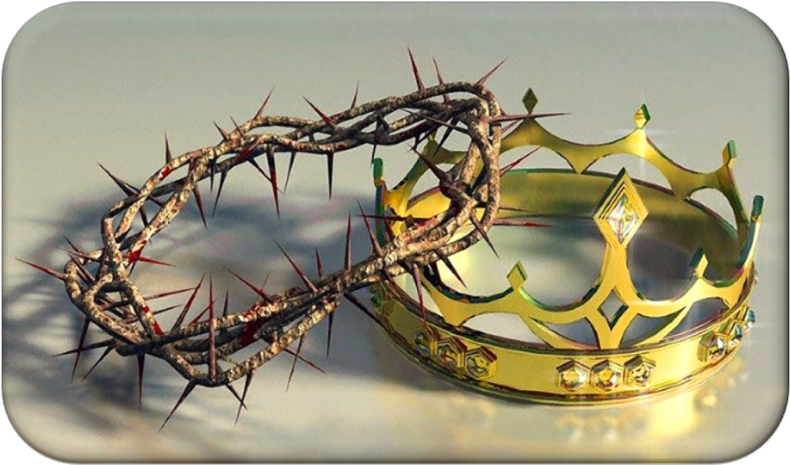 Last weekend we celebrated the final Sunday of the Church's liturgical year with the Solemnity of Christ the King.  We honour Jesus as King of the Universe and our hearts.  This special feast is not only a chance to honour Christ as our Master and Lord but we recognize that we are servants of the king. 
HOW DOES JESUS RULE?
What kind of king is Jesus for us?  Christ is not simply looking for praise and adoration (although he deserves that from us) making it just about Him but seeks to share His power with us through loving service and sacrifice.  His crown is not one of gold and diamonds but of thorns. 
Through the gift of our baptism and strengthened by the Holy Spirit in the Sacrament of Confirmation we are heirs of the kingdom, called to live for others as Christ lives for us.  It is a kingship rooted in love that is given away. The kingdom of God is offered and belongs to all of us.
This is in stark contrast to the many worldly kings of celebrities, athletes, social media influencers and politicians who seek attention, power and control for themselves.  How often are we caught up in these false and fading kingdoms that look to take from us rather than empower and transform us.
RELATIONSHIP IS EVERYTHING
If we are going to be faithful and loving disciples getting back to the basics of our faith and the mission of the Church, we need to realize that our lives are all about relationships.  This means that everything is about our relationship with God and with others.
(1) Our relationship with God—We need to remember that our faith is not a set of rules or commandments to follow but a relationship between us and God.  We develop and grow that relationship through the Church but we really need to connect our hearts with our Creator.  We need to allow God to love us and to love God with all everything we have and are. 
Through the gift of Jesus, we see the deep love of our Heavenly Father who sends His only Son to save us.  Christ shows us the pathway to salvation through the cross out of complete love for us.  As we enter the Advent season we once again recount and remember God's eternal outreach to heal us and bring us home.  We are all children of our loving God who cares for us unceasingly.  We are truly transformed by that love.
(2) Our relationship with others—This great love that we experience from God fills our hearts with grace so that we may love, serve and care for one another.  Too often we are caught up in money, possessions and power forgetting that all of that fades.  Our lives are made up of our connections with God and one another.  Our faith reminds us that we are family, brothers and sisters who need to care and support each other.
We cannot journey through life alone and all of us go through peaks and valleys.  Without question we need one another.  The love we receive from God needs to overflow in our relationships with our families, friends and those in need.  In order to love, we need to give it away to those who are in need of healing, strength and hope.  We are on this journey to heaven together and the faster we understand that we are responsible for one another the more meaningful and fulfilled our lives really become.
EMBRACE WHAT IS ETERNAL
In the end, most of everything fades away.  We just need to look at things that are around us and what we use day to day.  Our smart phones, computers, cars and buildings all fade away—and yet this is what we spend all of our time trying to acquire thinking that we will be happy.  These things are never enough.
We need to embrace that which is eternal.  That is—God's everlasting love and the friendships that we forge in our pilgrimage to heaven.  None of these can ever be taken away as they dwell within us and come to completion in heaven. 
ADVENT— BACK TO THE BASICS
This weekend we begin the Advent journey celebrating the birth of our Saviour into history over 2,000 years ago, being reborn again in our hearts today and looking for His second coming to take us home.  Advent is a holy time of going back to the basics remembering God's love received and shared.  The King of Peace, the Lord of Light and the Hope of all nations transforms us anew with this new liturgical year.
Our faith is not complicated or a burden.  It is about our love of God and our neighbour.  Let's keep it simple by living each day the best we can building bonds that last forever.