By Fr. John Jasica
WE ARE FAMILY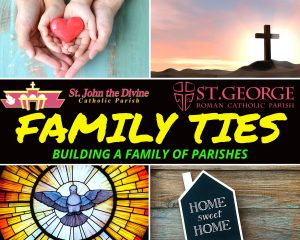 One of the exciting things that has been taking place over the last two months is that pastoral teams from St. John the Divine and St. George meet via MS TEAMS on Thursday afternoons.  We have been sharing our experiences, our hopes and our challenges of ministry and really getting to know one another.  We have already done a book study together exploring "5 Dysfunctions of a Team" by Patrick Lencioni.  We have been discussing ways to form one team built on trust, cooperation, support and of course success!
Next week we will be having our own online Advent Retreat afternoon with Fr. Peter Amszej, associate pastor of St. Peter's Cathedral Basilica.  It will be a chance to pray together and prepare ourselves for Advent and Christmas.  We are all looking forward to this wonderful time!  We are truly feeling like one family!!
GENERAL PRINCIPLES
As we continue to move forward and form our family of parishes, we do have 6 Guiding Principles that are helping us along the way.  Last weekend I shared the first two.  In this article I would like to share #3 and #4.
(3) We approach this dialogue reverencing both parish communities as equal partners in the building of our new family of parishes.
This is very significant for us to remember.  We are equal partners, sharing who we are and what we have to help form a family that seeks to take care of everyone.  We need to reverence the traditions and the significant programs and events of each parish, honouring the past which will help us move forward into the future!! A future definitely filled with hope!
We are not involved in corporate take-overs or having this new era be a simple administrative transition.  The gifts of each parish are important and need to be honoured, valued and celebrated.  They also need to be shared!!  Each parish will be better because of the other.  I truly believe that and am seeing that happen already.  There will be challenges but without question, we will be a stronger and brighter sign of the Gospel in our world today.
(4) We trust that God will enable us to realize the common good.
This fourth guiding principle connects with the third one.  As we come together as one family, we will need to adapt, change and create new opportunities for the sake of everyone in the family.  We will need to approach ministry and outreach differently as we will have new friends and volunteers who will enable us to make a larger impact in our world.  This will mean that it will be necessary to change some things for the sake of becoming better disciples and messengers of Christ in our family community and the world.
This transition or shift of focus will only happen through prayer and getting to know one another.  I share this with you from experience.  Over the last couple of months I have witnessed our two staffs working together, trusting one another and getting excited about the journey ahead.  There is an overwhelming enthusiasm and energy that is growing with both teams that is truly contagious.  This is wonderful to see and a powerful sign of this, is the fact that we all look forward to our Thursday afternoon meetings—who loves meetings?  We do!!!
Below is a wonderful and powerful prayer that I think can help us in our journey ahead.  It puts all of our work and effort into perspective and in God's hands.
A Prayer by Cardinal Dearden that can help us on our journey ahead:
It helps, now and then, to step back and take a long view.
The kingdom is not only beyond our efforts, it is even beyond our vision.
We accomplish in our lifetime only a tiny fraction of the magnificent
enterprise that is God's work. Nothing we do is complete, which is a way of
saying that the Kingdom always lies beyond us.
No statement says
all that could be said.
No prayer fully expresses our faith.
No confession brings perfection.
No pastoral visit brings wholeness.
No program accomplishes
the Church's mission.
No set of goals and objectives includes everything.
This is what we are about.
We plant the seeds that
one day will grow.
We water seeds already planted, knowing that they hold future promise.
We lay foundations that will need further development.
We provide yeast that produces far beyond our capabilities.
We cannot do everything, and there is a sense of liberation in realizing that.
This enables us to do something,
and to do it very well.
It may be incomplete, but it is a beginning, a step along the way, an
opportunity for the Lord's grace to enter and do the rest.
We may never see the end results, but that is the difference between the master builder and the worker.
We are workers, not master builders; ministers, not messiahs.
We are prophets of a future
not our own.
AMEN.