Stories Along a Spiritual Journey
These are 2 stories as people reflect on their journey through EMMAUS ROAD – our RCIA program
Anna Lam…

8 Year's ago, I was so thankful to God for giving us our first child. We were very excited and happy to start our new journey. Time by time, I found out being a parent was very challenging. I always hit the rocks on this new path. I kept asking myself questions that challenged my job as a parent:
Are we good enough to be a role model to our kids?
What guidance should we follow in raising them?
How can we have unlimited patience and forever love?
How can we control our temper and eliminate our anger?
Why does happiness of having our children come with tears and frustrations?
I lost my direction to keep on track. I have some Catholic friends who told me about their faith and I watch them and want what they have in a church community, so I started the RCIA in September last year. I have learned so much about the faith. I see the light from God.
Now, I pray everyday and it feels so great to have a relationship with God, Jesus and the Holy Spirit. I pray as I am baptized at the Easter Vigil, God will shine his light through me.
Jamie Cashen…
My husband Mike and his family have been devoted parishioners at St. George Parish for as long as I've known them and longer. I've casually joined them on the odd Sunday or two over the past nine years and always felt sort of peaceful after Mass.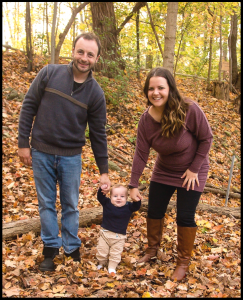 Mike and I were married at St. George and two years later Father John baptized our son in the St. George baptismal font. When my son, Bryce was born and then baptized, I felt God's calling and knew I needed to join RCIA to complete our family.
My journey has been educational, hopeful, confusing and sometimes emotional, but mostly it's drawn me closer to God. As the Easter Vigil approaches, I'm nervous but mostly excited!
It has been a spiritual journey that has helped me reflect on my life and what God's plan is for me. My experience has allowed me to open my hearth to the Catholic faith and become a full member of the community that I've been learning and praying about.
I'm thankful to the team leaders and my sponsor Steve and mother in law Monica and husband Mike for their support and endless guidance to my hundreds of questions along my journey, and to those who have been praying for me. The team leaders and sponsors have all guided me to the next step towards the Easter Vigil and full communion with the church where the other candidates, catechumens and I will join our new parish and faith community.
Contact Mary Catherine Bishop if you or someone you know are interested in becoming Catholic.