By Marjorie Braatz
"My Soul magnifies the Lord, and my spirit rejoices in God my Saviour…" (Lk 1:46).
Never have I lived out these words more faithfully than when I led a small group of women in a retreat '33 Days to Morning Glory' culminating in a consecration to our Blessed Mother after Mass on February 11th.  It all began in our Mosaic group when, during Advent, some of the women were looking for another form of prayer to begin the new year. I had mentioned the "33 Days", and several of the women in our group were very interested in doing the retreat together in January, and I found my heart responding like Mary's fiat with a 'yes, I would love to lead the group!'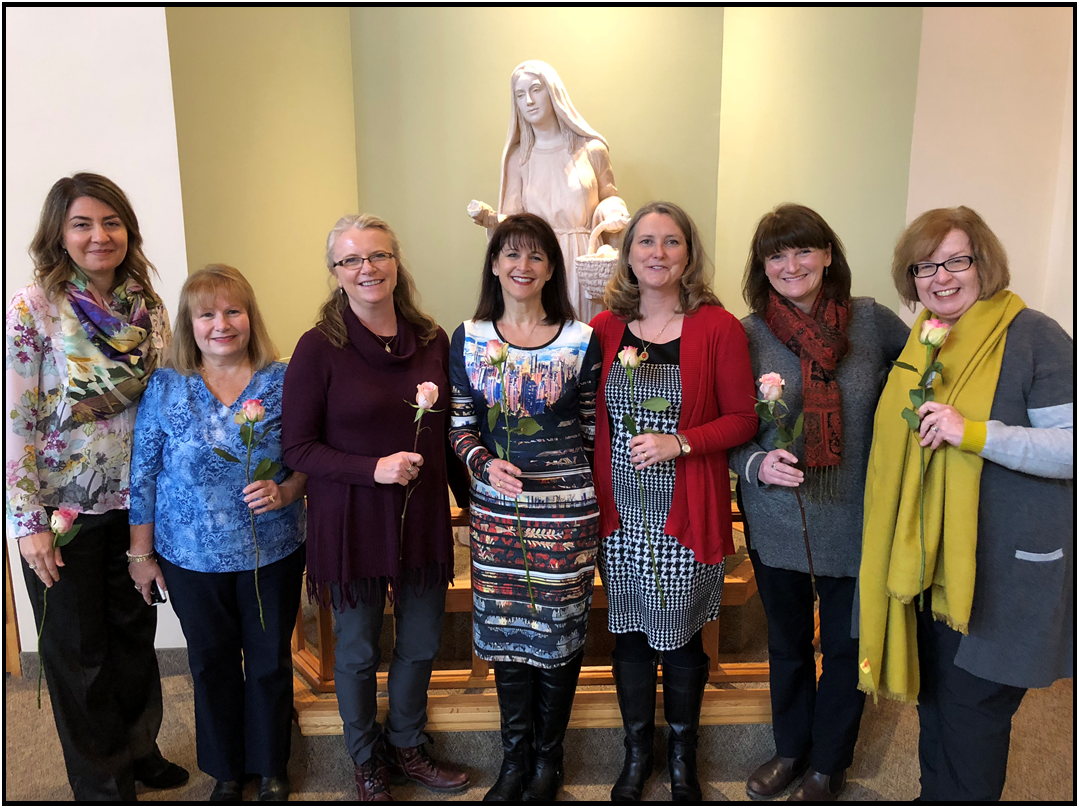 Our group of seven lovely, faith-filled women met each week in my 'little yellow prayer room', and followed the weekly format from the Formed.org website of song, prayer, teaching, reflection and sharing.  I asked the group to come only with open hearts, no expectations of where Mary might lead them and an affectionate respect and love for their fellow sisters in Christ.  Our beautiful, gentle, loving and tender Mother worked powerfully in each of us as we met each week to share our personal journeys, struggles, joys (sometimes tears) and revelations.  At the beginning of the journey some of us had a few trepidations about allowing Mary so fully into our lives but we learned to "be willing to be made willing" and open our hearts to Mary's nurturing ways. And she did not disappoint! Through our prayers we understood "that never was it known, that anyone who fled to thy protection, implored thy help or sought thy intercession, was left unaided!" (the Memorare). Many, many prayers were answered during our time together through Mary's intercession!
By following the book's four great Marian Saints teachings' we learned many ways to give our whole selves totally to Mary and her Immaculate Heart.  We learned that we can entrust Mary fully with all of our spiritual and temporal needs.  She is a good Mother, cares for us and wants to bring us closer to Jesus, to His immaculate heart of love and mercy. Mary brings us to her Son to help us carry out the work of Jesus on earth just like the example of the Marian saint, Mother Teresa. She said in her writings, that Jesus 'thirsts for souls' and it is up to us to seek out those souls who need Him.  This led Mother Teresa to help souls in her ministry in Calcutta – the poorest of the poor – but our 'poor' can be in our own families, neighbourhoods and communities.  By trusting Mary with our hearts, we may become a "fit instrument in her immaculate and merciful hands for bringing the greatest possible glory to God" (Consecration Prayer).  Each week, we learned more and more about this loving Mother that was given to us at the foot of the cross by Jesus, and how much she desires to be our Spiritual Mother – to nurture us as her beloved children.
This lowly and humble servant was filled with such love and tenderness being a witness to the journey of these beautiful daughters of Mary. The sacred space Mary provided for us each week to share from our open hearts was truly awe-inspiring. This spiritual journey we have shared has formed a cherished bond of devotion to prayer, love, trust, mercy, contemplation and joy.  I am so grateful to these women and their 'willingness to be made willing' and the powerful intercession of our
Blessed Mother. We have given Mary our hearts, and she has set them on fire for love of Jesus!